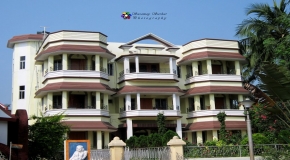 Details
Nripendra Atithisala
Address- :Taki, Baduria, Chotto Mollakhali (W.B).
Tariffs
Room Type: Double Bedded
NON-A/C 650/- INR +tax
A.C ROOM 1200/- INR +tax
ALL RATES ARE VARIABLE FOR SEASON & OFF SEASON.
ALL RATES PRINTED ARE EXCLUDING OF ALL RELEVANT TAXES
Check Out Time : 12 am.
From Kolkata Booking
MARK INDIA TRAVELS
280, B.B. GANGULY STREET
Kolkata - 700012
Phone:
+91 33 2225 0797
+91 33 40660238
Mobile: 09433202228
Contact Us to Book
"Mark India Travels" being the booking agent, booked and display any hotel/hotels/guest house/ home stay as per information provided by the hotel we are not responsible about rooms, quality, service and management, hotels owner or management are only responsible for that.